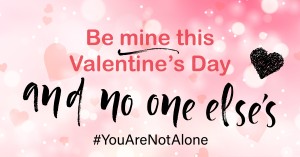 Valentine's Day should be about celebrating the love and affection between a couple. Sadly, this won't be the case for victims of domestic abuse in Buckinghamshire.
The increase in working from home and isolating due to Covid-19 has meant that many people have spent longer periods of time at home with their partners – amplifying existing tensions and escalating conflict.
Fortunately, there are several ways for victims to seek help and stay safe:
Silent calls to the police – If you are in danger but are unable to speak for fear of being heard, call 999, listen and respond to questions and instructions and make yourself heard by coughing, tapping the handset or once prompted by the automated system, by pressing 55. Police will do their best to respond.
Cover your tracks online – If you have access to the internet but are worried that your abuser may be able to see which websites you have visited, Women's Aid has a webpage giving advice about how to hide your tracks online.
Ask for Ani – Over 2,000 Boots stores and some independent pharmacies are now offering discreet help for victims of domestic abuse. Look out for posters and ask a member of staff for Ani.
Safe word/emoji – Speak to someone you trust and agree a safe word or maybe a generic emoji that you can quickly text to alert them that you need the emergency services. You could establish code words or phrases that the abuser will not understand.
If you or someone else is in immediate danger, always dial 999.
Steve Bowles, Cabinet Member for Communities, said:
"Across Buckinghamshire, reports of domestic abuse predominantly involve female victims. However, men can also suffer domestic abuse – but this often goes unreported.
"Whether male or female, domestic abuse is never okay and there is no excuse that is acceptable. I would encourage any victim to take the first steps to free themselves from abuse by reporting it and seeking help."
To access support over the phone, you can call:
Aylesbury Women's Aid: 01296 437777
Wycombe Women's Aid: 01494 461367
AVMKSAASS (for male victims): 01296 719772
National Domestic Abuse Helpline: 0808 2000 247 (run by Refuge)
The Men's Advice Line, for male domestic abuse survivors: 0808 801 0327 (run by Respect)
The Mix, free information and support for under 25s in the UK: 0808 808 4994
National LGBT+ Domestic Abuse Helpline: 0800 999 5428 (run by Galop)
Samaritans (24/7 service): 116 123
There's lots more information about where to get help on Buckinghamshire Council's domestic abuse webpage.
If you want to learn how to recognise the signs of domestic abuse, visit Women's Aid's website.
Take care
LGBT Bucks