Youtube have been criticised on their restrictions on videos from the LGBTQ+ community. Youtube created a Restricted Mode which aims to filter out "more mature content" and is switched off by default. However many Vloggers  say their videos have been hidden when they have not breached the 'Restricted Mode' of Youtube which has upset and annoyed many LGBT Vloggers especially as some of the videos hidden were discussing issues such as 'coming out', depression and even make up tutorials.
Irish Vlogger Melanie Murphy said in her interview with BBC –  "YouTube is literally a life-line to people. I have had messages from people saying they were suicidal and depressed about not being able to open up to people about how they are feeling." 
"It's something I didn't have when I was younger but it now helps take away a lot of confusion for teenagers and so many LGBTQ creators try and make their content inclusive."
Youtube put out a statement on twitter of their response: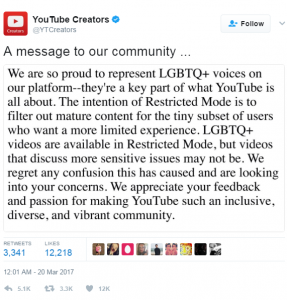 The BBC have written of articles on 'YouTube responds to criticism of LGBTQ video 'blocking'  and 'YouTube LGBTQ+ restrictions labelled 'shocking' by Irish vlogger'
You can also see the LGBT community's response here as the hashtag #YouTubeIsOverParty started trending on Twitter.