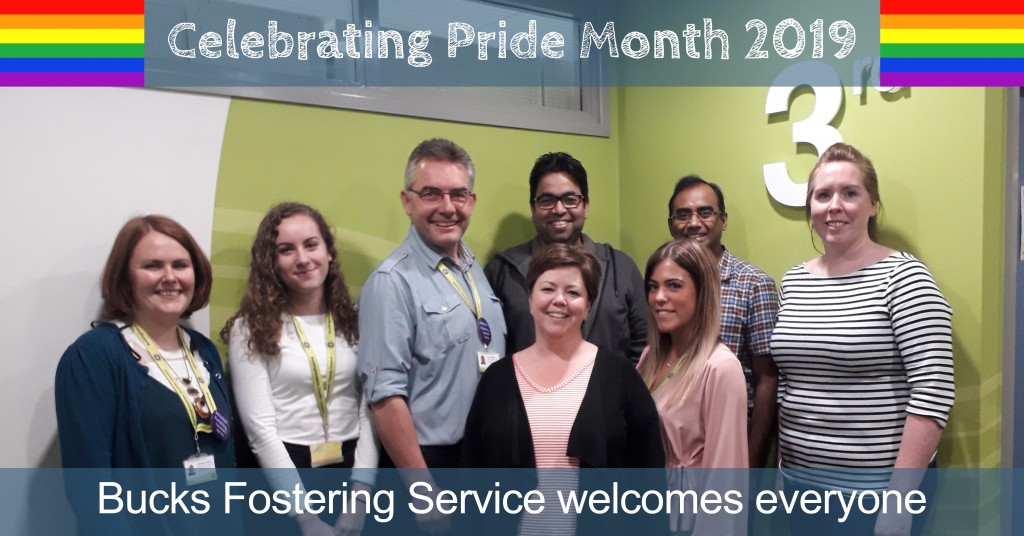 We are celebrating the inclusivity of our fostering and adoption service during Pride Month by dispelling some of the ineligibility myths out there. We would like to warmly invite any LGBT+ applicants to please get in touch to find out more!
1. Why are Bucks CC keen to recruit more LGBT+ applicants? 
We welcome foster carers and adoptive parents from all backgrounds, lifestyles, and ethnicities who can provide caring homes. Right now, over 500 vulnerable children are dependent on Bucks and our fantastic team of foster carers – whilst a further 25 children in the County are currently waiting to be adopted. LGBT+ Adoption & Fostering Week is an ideal time for the County Council to emphasise that anyone who is LGBT+, whether single or in a long-term relationship, is most welcome to apply to become an adoptive parent or foster carer.
2. What is the key difference between an adoptive parent and a foster carer?
There is more than one avenue to making a difference in a child's life. Whilst both adopting and fostering a child can provide them with a long-term home, the common difference between these two avenues lies in who has legal parental responsibility for that child.
Adoption removes the legal parental responsibility of the birth parents when the court makes an adoption order, which gives this to the adoptive parents. Adopted children and their families may need additional support therefore local authorities will have a range of services to provide this if required.
Foster carers work with the local council to support the child that has been placed with them – and this could be for respite, short term or long term while decisions are made for their long term future. Foster carers receive an allowance, on-going training program and social worker support throughout their time with us.
Early Permanence placements are where people can be approved as an adoptive parent and as a Foster Carer. These foster carers will work with the council during the court process. If the decision is adoption the child can stay with the Foster Carers who will then apply to adopt the child. This supports the best interests of some new-borns and infants as they will have fewer changes of carers, however there is always the potential for the child to go home or to a family member.
3. What experience does the BCC team have in working with LGBT+ adopters and foster carers?
Here at Bucks, we have not only supported numerous successful LGBT+ applications, both for adoption and fostering, but are currently guiding a selection of LGBT+ applicants through the approval process for children to be placed with them on a temporary or permanent basis. We welcome and encourage all LGBT+ individuals to get in touch to see if adoption or fostering with Bucks might be right for you…
4. What support does Buckinghamshire County Council offer LGBT+ adopters and foster carers?
We offer support and training to all our carers and adopters and recognise that they may encounter specific stumbling blocks, dependent on the children they are paired with or circumstances at large.
Starting this year, we are proud to offer Foster carers access to Child and Adolescent Mental Health Services (CAMHS) clinicians, who also attend our support groups. In addition, our carers have bespoke training courses, a dedicated support team of social workers, and generous allowances to cover the cost of living expenses for their placements. Adoptive parents have a tailored training programme and also join those sessions we offer to our Foster Carers. Adopters are supported through the assessment process, to being matched with a child, until the adoption order. The Post Order Team is then available to provide advice, guidance and support, and assessments for therapeutic needs as required.
5. Will I receive further training specific to my background so that I could look after a child more effectively?
Yes, we have many avenues of support, a selection of which is geared towards parenting or caregiving within a same-sex family. Once your application for adoption or fostering is accepted, we will set out a schedule of visits with a social worker who will prepare you for any obstacles you may be dealing with. As mentioned, our special relationship with CAMHS means that we offer the advantage of access to a clinician from the Looked After and Adopted Children's Team.
6. Will I get a child of a particular gender based on my current relationship?
In short, no. You will be matched with an adoptive or foster child based on the requirements of that child, as well as an extensive and thorough evaluation process that ensures we are meeting with everyone's needs to the very best of our ability. This is a process we go through across the board, no matter if you are applying as a single or disabled individual, or from a particular ethnicity or background. Specific gender roles do not factor as one of our key criteria, however we do recognise that Adopters may have a gender preference due to existing children in the family
7. Will my adoptive or foster children experience any bullying regarding their less conventional family dynamic and how will I be supported through this challenge if it occurs?
In addition to our in-house psychologist from CAMHS, based here to advise social workers and the children's services department on a case-by-case basis – whilst also attending support groups – we have numerous specialist training sessions devoted to supporting foster carers in this arena. The same is true of our dedicated post-adoption support structure. Foster Carers and Adopters will hopefully build relationships with their children's schools and (where any difficulties might be experienced) they can have assistance from the Virtual School who have specialist workers for children in foster care and for those who are adopted.
8. As a same sex couple, will our relationship dynamic be taken into consideration in the application process?
Bucks is looking for LGBT+, single, diverse foster carer applicants to care for the children in our County that have a cross section of needs. There are no criteria based on lifestyle choices, status or sexual preferences. You can foster or adopt if you are single, in a couple; married/ unmarried or civil partnership, or are gay, bisexual, lesbian or transgender. Sexuality and gender don't play any role in the application review – it is about your ability to understand the impact of trauma and how to care for a child given these early life experiences.
To find out more, please visit our website (www.buckscc.gov.uk/fostering) or call us on 0800 160 1900 / email us at fosterwithbucks@buckscc.gov.uk