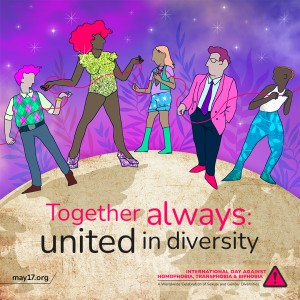 We have a few dates for your calendar leading up to Pride Month (June)!
This May includes the International Day Against Homophobia, Biphobia and Transphobia on Wednesday 17th May, and the theme this year is Together always: united in diversity. It's celebrated every year on the 17th May to commemorate the World Health Organisation's decision to declassify homosexuality as a mental disorder back in 1990. The aim is to raise awareness of ongoing discrimination towards the LGBTQIA+ community, and to promote unity. You can find out more about IDAHOBIT on the official website.
Agender Pride takes place on the 19th May, raising awareness of those who don't identify themselves with a particular gender. This is another opportunity for us to support those who are agender and celebrate our diversity.
22nd May is Harvey Milk Day, and we will be delving more into this iconic figure in our next blog. Pansexual Awareness Day takes place on the 24th May and aims to celebrate pansexual people across the world as well as acknowledge the issues the pansexual community face.