Hi Everyone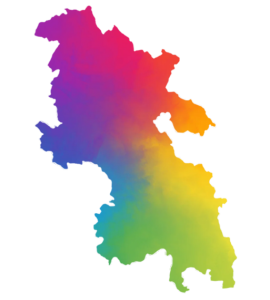 2022 is an important year for the LGBTQ+ community as this summer marks 50 years since the first UK Pride rally in 1972, which took place shortly after the Stonewall Riots back in 1969. You may have heard of activists such as Marsha P. Johnson who played a pivotal role in paving the way for LGBTQ+ rights.
Pride is a time to celebrate diversity, acknowledge the progress we have made as a society, and recognise that we still have a way to go in order to ensure equal rights for the LGBTQ+ community. It's an opportunity to meet like-minded and supportive people and make new friends as well as learn more about groups, organisations and services in the country.
Although June is considered Pride Month, this year London Pride takes place on Saturday 2nd July and is expected to have thousands of attendees from across the world. Members of the LGBTQ+ staff network at Buckinghamshire Council will also be marching in the parade for the first time as a group.
The COVID-19 pandemic has meant that London Pride hasn't been able to take place over the past two years, which makes this year's event even more meaningful. However you choose to celebrate, we wish you a safe and happy Pride.
Check out these eBooks about Pride for children
What does Pride mean to you? Let us know your thoughts, and we can share them in our next blog.
Pride events near you
High Wycombe Pride takes place on Saturday 20th August.
We will be meeting on Frogmoor from 12pm – 12.30pm then march behind the banner and flag finishing on Paul's Row.
The festival takes place on Paul's Row between 11am – 3pm. We will be reaching out to local charities and other non-profit organisations to promote their work on our stalls, which will be set out on Paul's Row. These will be accessible to everyone. These will not be selling goods because we want to support local businesses around the area by not taking business away from them.
Take Care

LGBTBucks Team