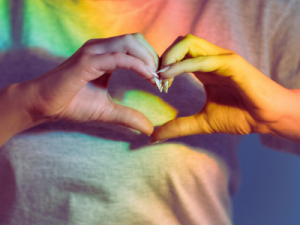 We hope you had a chance to enjoy the Pride festivities over the summer, but if you ask us, every day is worth celebrating and feeling proud!
Today is National Coming Out Day, a day when we show our support for those who want to come out to family, friends, neighbours, colleagues – or perhaps the world in general.
Coming out can be one of the most difficult things for anyone to do, and every coming out story is unique. If you're thinking about coming out, there are a few things you may want to consider.
Come out in your own time
It's important to come out when you feel ready to. There can be a lot of pressure to come out, but everyone's circumstances are different. Coming out won't necessarily be a single event in your life, but rather something you do time and time again with different people.
You may want to slowly build up to coming out, so that it isn't a complete surprise. How about introducing LGBTQ+ topics into everyday conversation to gauge how receptive the person you're planning to come out to might be? Making your views known could help test the waters and help you decide if now is the right time to come out to this person.
It doesn't need to be a big thing
Not everyone wants to have a big coming out party, and that's okay. You may decide that coming out to friends, family members, or colleagues one by one is the best way forward, or you may only want certain people you trust to know.
Reach out for support
Although coming out is part of your own journey, you don't need to walk it alone. Support can come in many forms, whether that's from friends and those you trust, to those who are openly LGBTQ+ allies. If you're feeling nervous about coming out, ask others to accompany you so that you feel safe and supported. Sometimes merely having a supporter in the same room can be enough.
Learn from the experiences of others
It can help to read about or listen to other coming out stories to help you prepare for your own next step. Coming out is something most in the LGBTQ+ community will go through at some point or another, and this unites us. There are many who are more than willing to share their stories to help others who may be considering the same.
You may not get the response you expect or hope for
It goes without saying that perhaps not everyone you come out to will be completely on board with the news. We still live in a world where there is a lack of understanding and empathy for the LGBTQ+ community, and although the community is working towards equality and awareness, it's important to remember that we're all human and some may need more time than others to process the news.
Remember you are brave, whether you come out or not
It may not get said enough, but merely living in a world where LGBTQ+ members of the community are treated differently means you are brave, because you're facing the challenge on a daily basis in your own way.
If you do decide to come out, we wish you the very best and hope you get the outcome you hope for. Remember that you are not alone – there's a community of millions who are cheering you on!