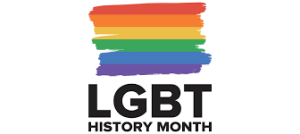 This month we celebrate by looking back at the history of the lesbian, gay, bisexual and transgender community and the history of the gay rights and related civil rights movements. Rodney Wilson the founder of LGBT+ history month is a Missouri history high school teacher who came out to his class in 1994. After teaching about the Holocaust, Wilson shared that he could have been killed for being gay had he lived during that time. LGBT+ history month is observed by the United Kingdom, Australia, Canada, Hungary, United States and Ireland although not all celebrate in February.
How will you celebrate LGBT+ history month?
Who are your LGBT+ icons?
See the links provided to see what other organisations are doing.
https://www.theproudtrust.org/schools-and-training/secondary-resources/lgbt-history-month/
https://www.stonewall.org.uk/our-work/campaigns/lgbt-history-month-2021
https://www.ucu.org.uk/LGBT+HistoryMonth
Take care,
LGBTBucks.