Today is IDAHoBIT (International Day Against Homophobia, Biphobia and Transphobia). It is a worldwide celebration of sexual and gender diversities. May 17th commemorates the day in 1990 the World Health Organisation removed homosexuality from its list of mental diseases.
In 86 countries globally, homosexual acts are illegal while in many countries lesbians, gay men, bisexuals and those who identify as trans are often murdered simply for their sexuality or gender identity.
The atrocities in Chechnya prove why standing up for LGBT people abroad is absolutely vital.
The celebration and recognition of IDAHoBiT  reflects the wish of a worldwide community of committed people where everyone deserves to be treated with respect and dignity regardless of their sexual orientation.
Watch the IDAHoBIT commemoration video here and for more information visit the official page here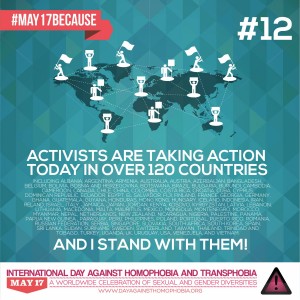 Archives
June 2023
May 2023
April 2023
February 2023
January 2023
October 2022
September 2022
August 2022
June 2022
April 2022
March 2022
February 2022
January 2022
November 2021
August 2021
June 2021
May 2021
October 2020
September 2020
June 2020
June 2019
January 2019
April 2018
February 2018
January 2018
December 2017
November 2017
September 2017
August 2017
July 2017
June 2017
May 2017
April 2017
March 2017
February 2017
January 2017
October 2016
September 2016
August 2016
July 2016
June 2016
May 2016
April 2016
March 2016